Privacy Policy
Ethnobotanicals.com places the utmost importance on the privacy of our web site's visitors/customers. We respect and actively protect your privacy as a visitor and/or customer of our site. We will never disclose your personal information to any third parties for any reason. This means that your credit card information, name, shipping/billing information, AND email address, etc. are all 100% secure with us. We have been in business for OVER 20 YEARS and have never had a single instance of anyone's info or security being compromised, as we secure the ordering processes on our web site with SSL certificates that ensure through full encryption the highest possible level of security for our customers, as we have done for the past 17+ years.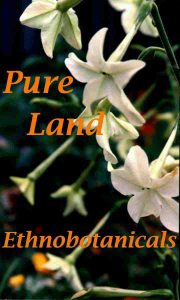 To order by mail with a printable order form click here
TOLL FREE 1-888-ETHNO-42 (for leaving order details only, questions please email!)
FREE USPS PRIORITY MAIL ON ORDERS $99 OR MORE!
Most items ship same day if ordered by 11 AM Central!
You must be at least 18 years old to use this site. By visiting Ethnobotanicals.com
you agree to be bound by our Terms and Conditions of Sale. and Disclaimer.
PURE LAND - 3500 DODGE ST STE 205 PMB 104, DUBUQUE, IA 52003 USA

Email